Release 1.6a of SLIKR is the second release with key improvements following our previous release. Please read the attached notes carefully as many affect new options and usability of the Kiosk.
All menus and updating information is now available from the Kiosk for the shop owners. Even in Kiosk mode with the keyboard active all information should be editable. If screens are not please advise us ASAP.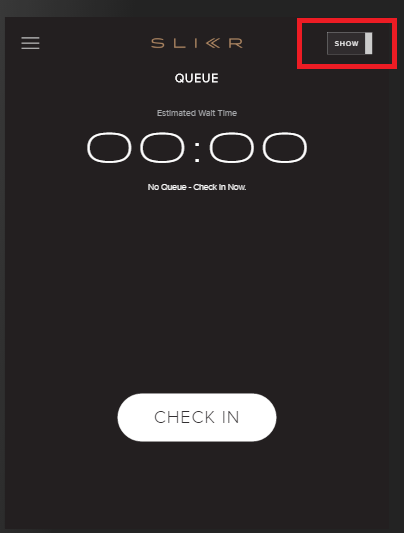 SHOW / HIDE – KIOSK
Shops using the Kiosk for client check-in have the option to HIDE "In-progress" clients by selecting the slider on the top of the kiosk.
Queue looks shorter without "in progress" list showing
Less chance of clients completing services
Less information for clients on screen
Fast to Show/Hide so can still be used on single kiosk.

Services Active / Inactive
Changing weekend pricing just became faster. With 1 button you can make services active or inactive. Just setup your weekly and weekend services and pricing. With one simple button disable your weekly, and enable your weekend pricing.

Staff Time adjustments
An apprentice or slow staff member? You can add extra time to their services. Enter the extra time in minutes and every service they start or staff specific booking will have this time period added. It will help keep your wait times accurate and allow for training and developing staff.
Other enhancements
Staff start times now align with actual start, not 1 minute later. Client searches at the staff start time will now show the barber.
Edit reservation now allows adding/removing services + sms reminder flag. (Limitation: start time +  family bookings cannot be modified). Reservation must be pending and not in-progress.
Email confirmations of bookings now include a tracking link + reminder to arrive 10 mins before the scheduled time.
iPhone and Android to show Arrival Time (10 mins before) + Scheduled Time – Release date Monday
Time adjustments no longer apply to breaks
Queue optimise stability fixes and improvements
Standardised date/time picker to remove 24hr times
Fixed no-email formatting on add staff screen