Queue with Bookings Release 1.9
Owners now have even greater control of the Queue including an optional booking component. It is possible to run bookings and walk-ins in parallel and even change the mix based on the day of week. Queue improvements include better management for scheduling arrivals by providing recommended times and displaying staff wait times before checking in.
Release 1.9 is designed to provide a smoother flow and also increase revenue with promotions or tiered pricing options.
Review each tab below for more information.
This release and smaller updates over coming weeks are delivering some major improvements to the queue.
More control with 3 queue types.
Available times for web and mobile will smooth the flow on busy days
Bookings for selected staff will minimise the impact of in demand staff on queue.
Staff Specific services. Increase your revenue with tiered pricing for Senior Staff.
Discounts and Promotion codes can be used during set times to fill your quiet periods or limited to set services.
SLIKR Referral – Free subscription and fee rebates!
New helpdesk and Manual is available online – SLIKR HELP or email us at support.slikr.com.au
Queue, Same Day, Book Ahead
Are you clients staying up to midnight to check-in or do you want more control over your queue? Shops will have the option of 3 modes.
Queue Only : just get join on the back of the queue
Same Day : current approach of queue ahead
Book Ahead : want to take future bookings, set how many days ahead you want to let clients check-in?

There are no changes for current shops and by default you will remain on Same Day, Queue Ahead – if you want to discuss your queue options please let us know and we can help.
Available Times
Clients who queue ahead will no longer be able to enter a time. SLIKR will return a list of available times to select helping busy shops avoid people sneaking into gaps leaving any gaps only for walk-ins on the kiosk.
SLIKR will use service average time to only return suitable time periods, eg client with 2 services taking a total of 45 mins will only be shown the earliest time periods where they can be accommodated.
Wait time is shown for each individual staff member.
When a staff member is not available at a certain time they cannot be selected
Selecting a staff member will only show times for those staff.
Available times will smooth the flow of queue ahead clients. Kiosk or walk-in clients still check-into to any open time gap but listing available times will gives clients outside the shop clearer time estimates.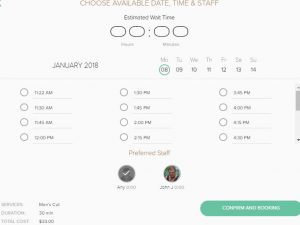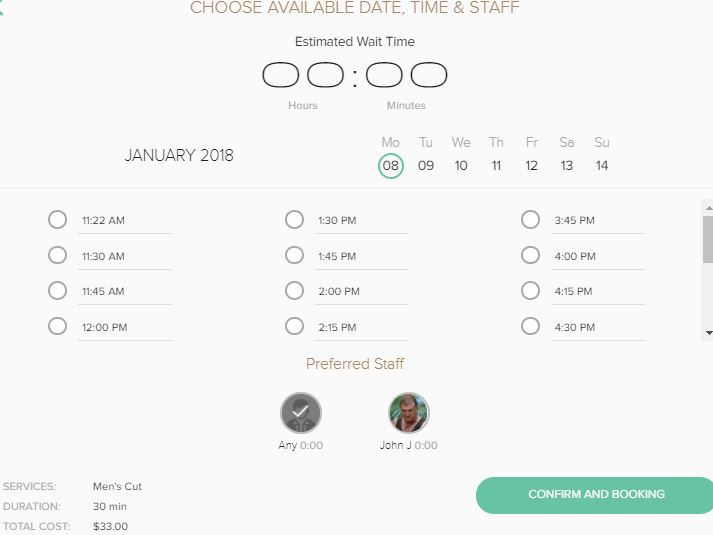 Bookings and Queue
Is one of your staff in more demand? The in demand staff member can have a lot of specific requests for them which can be problematic on busy days when there there is queue and some other staff are running behind schedule.
Each staff member on each day can can have a schedule type of "Booking" or "Queue". This gives flexibility to operate slightly differently on busier days.  The default is for staff on a booking schedule to be included in the queue, it is possible to exclude staff if wanted.
Booking Schedule (or Fixed times) : SLIKR will only allocate people to a Booking queue if there is free time available. It is not move any subsequent bookings to fit a person. A staff member can still manually start a client on the queue but it will not be automatically allocated.
Queue Schedule (or Floating ) : This is the current approach where SLIKR will fill each time period. The default is 1 minute but this can be modified as a shop setting. For example, If someone has queued ahead for 2pm but a client walks in at 1:50PM for a 20 min service.  We will allocate the client to that staff member and move the  queue ahead to 2:10PM. Any subsequent people will be placed after the 2:10PM service is scheduled the finish.
The system will allocate people to the queue staff first before trying to place a client onto a booking schedule, it will then only allocate to a booking schedule when the service can fit otherwise the client will be advised a later estimated start.
The booking option is useful if shops are planning to take future bookings or one staff member is in high demand. It will minimise the chance for that in demand staff member clients to push out.
Staff Service Allocation
Got services that only a certain staff member can do or want to have some tiered pricing? For example a cut throat shave or increase revenue with senior staff charging extra, now SLIKR can automatically allocate to the correct staff member.  Our team will need to help set this up at the moment.
Example 1: Tiered pricing
Add $5 per service onto a senior staff member. We will only show those staff members and will only allocated to senior staff. This is a great way to recognise staff who have a large clientele without impacting the overall shop pricing. If the staff member does not have booking and are free they are still on the queue at the normal shop pricing.
Example 2: Cut Throat Shave
There is nothing more annoying to a client than getting called up and finding out the staff cannot do their service and there is a longer wait. Now we can allocate directly to that staff member and provide a more accurate wait time.
Discounts and Promotions
Filling the quiet periods is essential to a profitable shop, the trick is doing it without affecting your overall pricing. Our promo codes give a specific % discount but can also be limited to specific days and hours, or number of times people can claim. Track your discounts to know what staff are discounting or if a particular campaign has been successful – eg how many people you attracted with the promotion actually returned.
You define a unique code that the client enters into the mobile app or website at the time of booking. We automatically check if it is valid for that day and time then apply the discount. Combine with our online payments to secure the booking and $ at the same time!
It is time for us to grow and we need your help.  Share your experience with SLIKR with barbers or other services industries. For each new client that joins and tells us they saw your post or referral you get 1 MONTH TOTALLY FREE. Keep any booking fees for yourself or save $ with us not charging you.
Send them this link! Free Trial Link
Conditions
Valid to 28th Feb 2018.
We will advise when a new shop as come from a referral. If you are aware please email us at support@slikr.com with the shop name and contact details.
Free period started when the shop has completed the trial and registered for any paid model.
Get multiple shops for multiple free months!
First in first served if multiple shops claim a referral, our decision will be final.
General Fixes
New user profile menu for clients
Updated iFrame pages to book direct from your website
Added date option to + reservation on queue
Improved reminders and notifications for shops
Mobile Apps
Major updates to both iOS and Android.
Staff show with individual wait time when viewing on mobile.
Users now select a service first so SLIKR can determine the time needed.
Available times are listed to smooth the flow.
Discount codes can be entered on the mobile
Payments can be forced to reduce no-shows.
Reservation
Estimated start time and discount code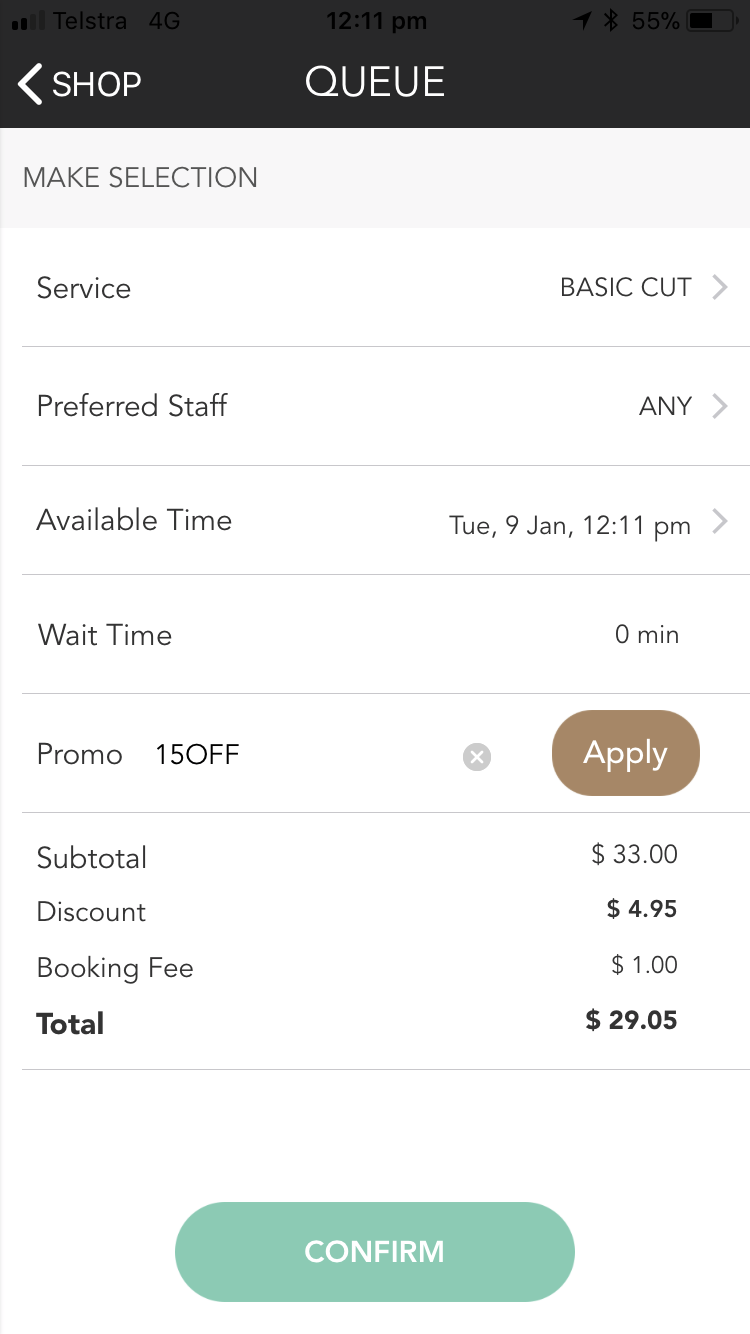 Date
(Optional) dates shown for future bookings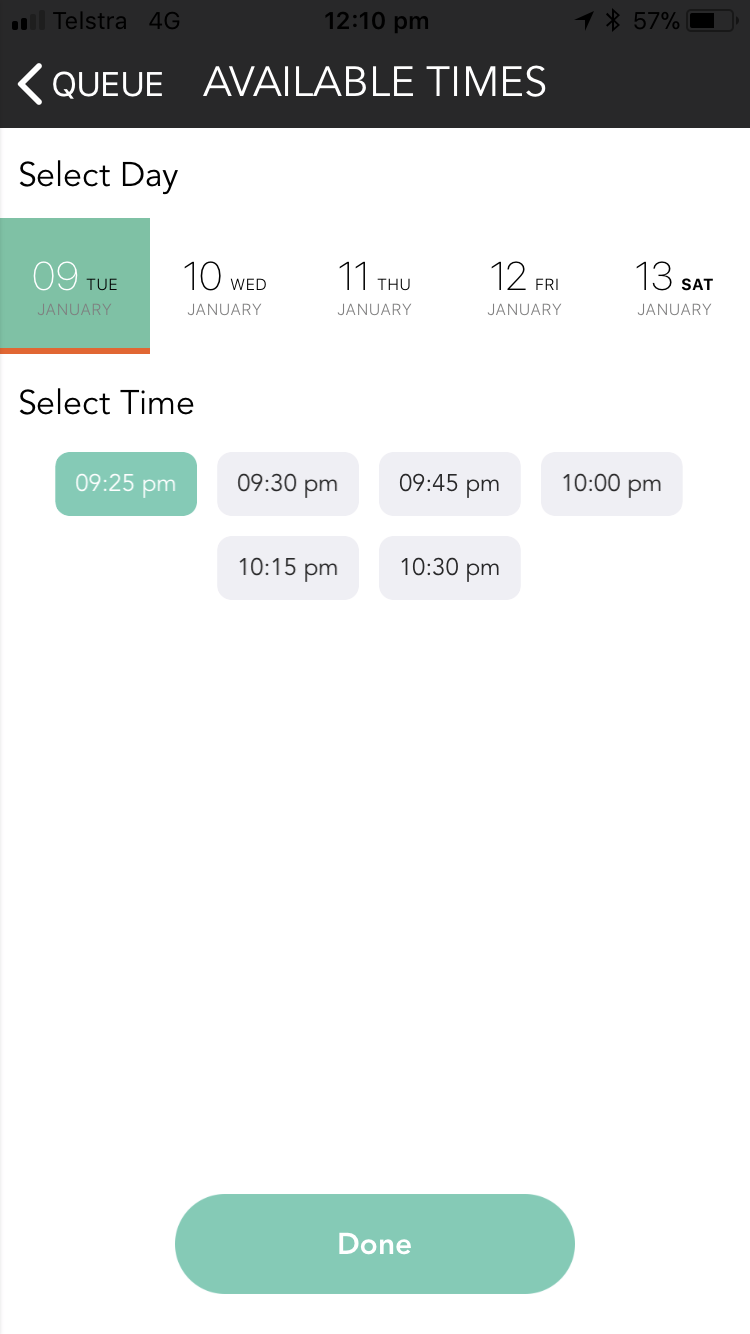 Times
Time selection only