How to setup and manage your SLIKR System
For full access to our online tutorials and videos register for a demo shop.
Step 1: Setup the Shop Kiosk
SLIKR Kiosk runs best on an Android Tablet 9.7″ or larger. Many shops or your local telco will have Samsung or similar, we can provide a tablet and stand at a discount price, just ask via our contact form.
Install the Shop Kiosk from Google PlayStore
Android Kiosk Tablet Setup Instruction, the following will setup the tablet to work in a Kiosk mode and hide key client information.
Create google account: If prompted, you can ignore google payment information
Configure the Tablet
WIFI setup
Connect to your wifi network, SLIKR will run over 4G but we recommend broadband.
Display 
Brightness Level           FULL
Sleep                              Never
Security
Make passwords invisible – ensure checked
Language and Input
Spell Checker               Off
Date and time
Automatic Timezone   – confirm your timezone and time is correct
Step 2: Register and Login
From the main menu
Login or Register
Enter your unique email or password
New Shops: email support@slikr.com to advise your shop name and administration account
Menu Options
The Left Menu
Shop Kiosk = Shop Check-in and client registration
Web Shop Queue = Shop administration pages
Logout = Logout of SLIKR
The Right Menu
Profile = Update and edit your personal profile information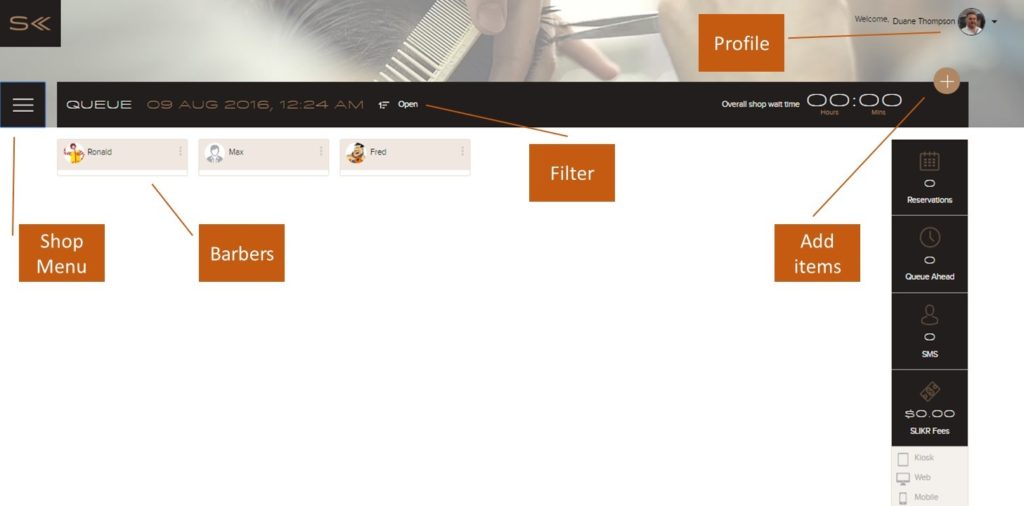 Step 3 : Shop Setup
The shop menu has all the elements to setup your shop in one location.
New elements are added from the + menu on the Right Hand Side.

SETUP ORDER
Barber – Add barbers to your shop
Services – Define your services, timing, and pricing
Schedules – Who is working what hours at your shop
More information on each of the steps are contained below.
Step 4: Setup Staff
Staff are added in two steps
1. Create an account (or select no email for a generic account)
2. Add staff to your shop.
View staff
All staff associated with a shop a listed with key information including their feedback rating. Staff are added from the + menu, the action button is used to edit or remove staff from the shop.

Create an account
Staff are encouraged to download the app and create their own account. In future we will be providing access to schedules and rosters for staff view their profile.
To create your staff account without the app
visit www.slikr.com
Select Join Now – Register
Complete your details or Signup with Facebook
Sign-up video tutorial
Create / Add a staff to a shop
Enter the sstaff email address. SLIKR will check if the staff member already has an account, if an account does not exist it will create an account for the barber automatically.
Select "No Email" to create a generic account.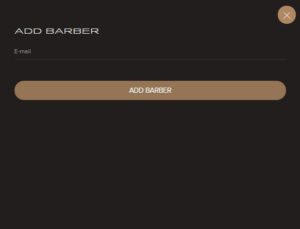 If the user is not found the system will prompt for First Name and Last Name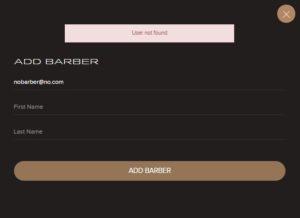 The staff will be added to shop list shown earlier.
Step 5: Setup Services
Create a Service
Services are created from the + menu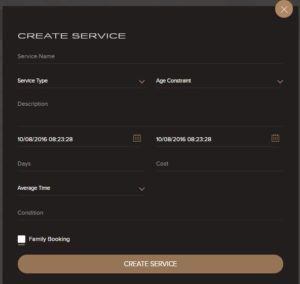 Service Name: Display name of the service
Service Type: Category Barbers = (Cut, Shave, Extra's), Beauty = (Face, Nails, Body)
Age Constraint: not enforced by the system but information for age limits
Description: Detailed description of of the service or package
Start and End Date: Only valid services or pricing will be displayed.
Days: Not used – Future functionality
Cost: Fees (inclusive of taxes)
Average Time: Time for the service to be completed, allow for transition, payment, and cleaning station. The system will use this to determine the wait times.
Conditions: Text description of any terms or conditions associated with the service.
For Family: this is a type of booking, it is for children services and will be combined with a parent booking. Parents can select a # of children instead of creating multiple individual bookings.
Edit a Service
Services can be changed at any time. To maintain history it is recommended to "End" the date on a service and create  a new service from the current date.
Any fields above can be changed.

Step 6: Setup schedules
Schedules are your staff rosters and one of the most important components to have correct in SLIKR.
Setting up schedules determines when you shop can take bookings and who is available to service clients. Schedules are essential to the forecasting and estimation of wait times also for clients wanting their preferred barber.
From the admin screen menu – Select schedules

Create schedule  – Add a schedule from the + menu item.
NOTE: A schedule defines the hours a barber is taking clients. SLIKR will optimise the clients to complete services until the closing time.
Daily / Recurring:
Daily schedule will be active for the selected day only
Recurring schedule will be active until the end date. eg Barber works every Monday until the end date. Recurring saves entering multiple schedules for the same barber.
Date: day for the schedule to start (and if recurring when it will stop)
Time: Start and end times
Day: confirm the day of the week schedule applies to eg "Wednesday"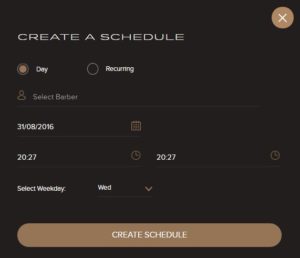 Edit / Delete schedules  
The edit drop down is used to change schedules

New = Create new schedule
Edit = Edit current schedule, if a recurring schedule it will just change the current day and leave the remaining schedule unchanged.
Correction = It is not recommoneded to use Correction Mode. For recurring schedules this will also update the history and past records. If the history records are incorrect Correction will adjust them.
End = End date a current schedule, all remaining schedules attached to the recurring entry will also be ended.
Schedule Views
Different views are provided for viewing schedules depending on the level of detail required.
Default = Quick snapshot of the current day
Daily = Visual of the hours for the day and coverage
Weekly = All staff for the week
Monthly = Staff, hours, and clients served for each day
Monthly (staff filter) = Monthly view for a single staff member
Default View 
All active schedules for the current day are listed. Action button will allow edit or delete.

Daily View = Overview of the current day
Start and finish times for each barber rostered is shown, the action button can be used to edit, add break, or delete the schedule.
Analytics: Key statistics are shown for each day Total hours rostered, number of barbers schedules, number of services for the day, and daily revenue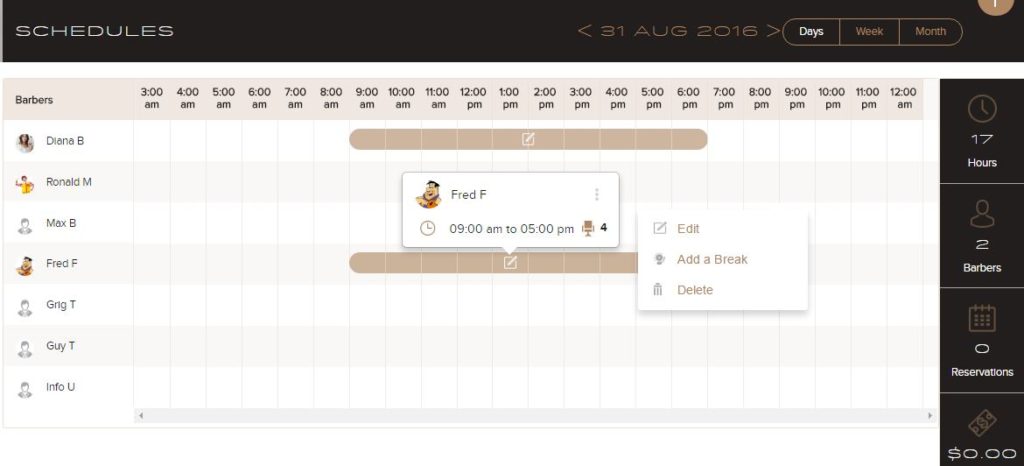 Weekly View = Edit a whole week on one page.
New schedules can be created for each day using the + button
Each entry can be edited in line by selecting the time.

Month View = See the #barbers, Hours Scheduled, and clients served for each day in a quick snapshot.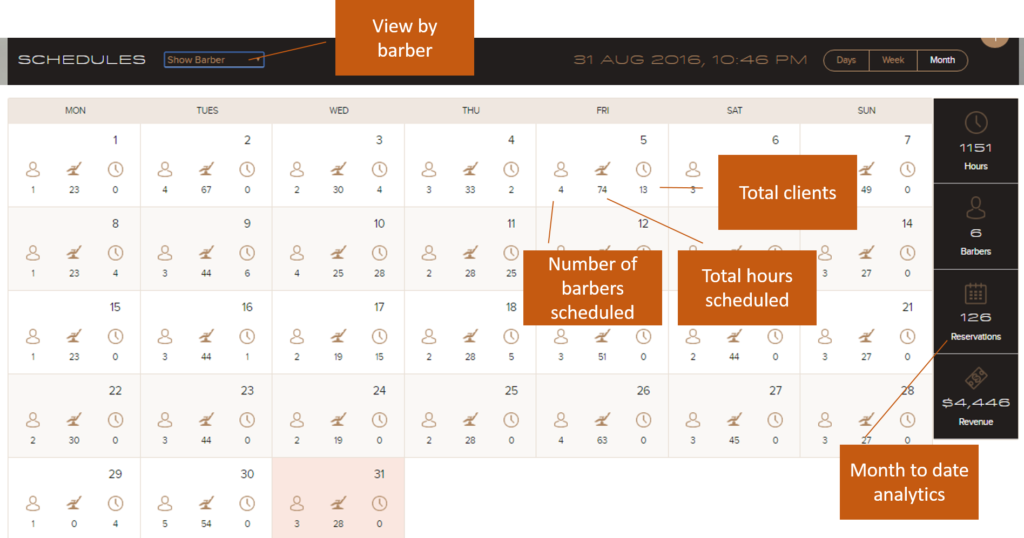 Monthly (with staff filter) 
The staff filter will show the schedule for the month with staff specific Month to date analytics. Schedules can be updated from the action button.
Hover over a blank date for the option to add a schedule to a date.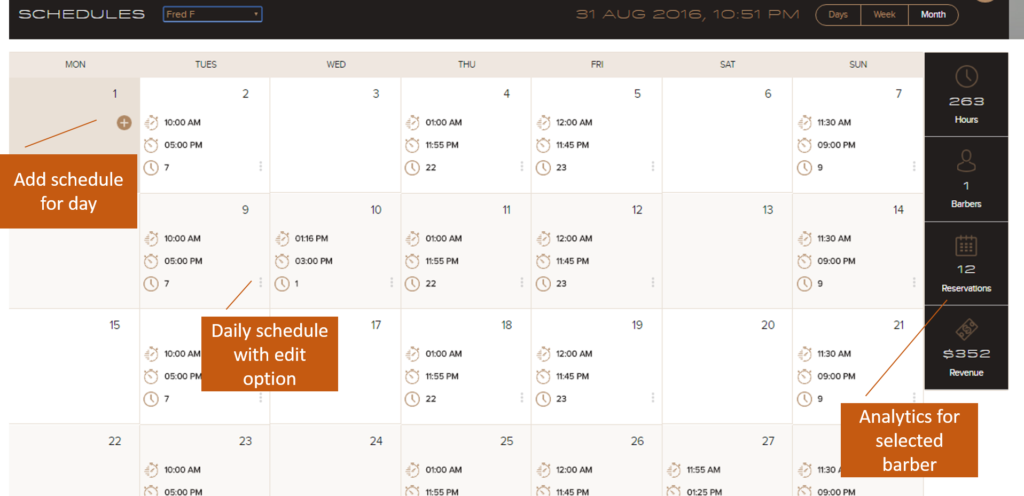 Step 7: Clients
Your clients can now check-in online or via the Kiosk in your shop. We have 3 types of people
Regular: Registered and verified users who can login and queue ahead. We maintain contact details and history.
Visitors:  Certain clients do not want to leave personal details. We provide a visitor option. If clients do provide the optional phone number we will match the client based on the phone for history.
Search for clients
Date: All clients who visited on that date
Name: Search on First or Last name.
Mobile: Return details based on the users mobile

Client Details
Selecting the client name will provide additional details and history.
Contact details: Mobile and email
Schedule / Actual: Estimated time advised when the client checked in, Actual time the service started.
Last Visits: Last service date
Service: Service performed.
Barber: Who performed the service
Rating: If provided the rating for the service.
Days: Average days between services
Spend: Total spend for client
Visits: Number of visits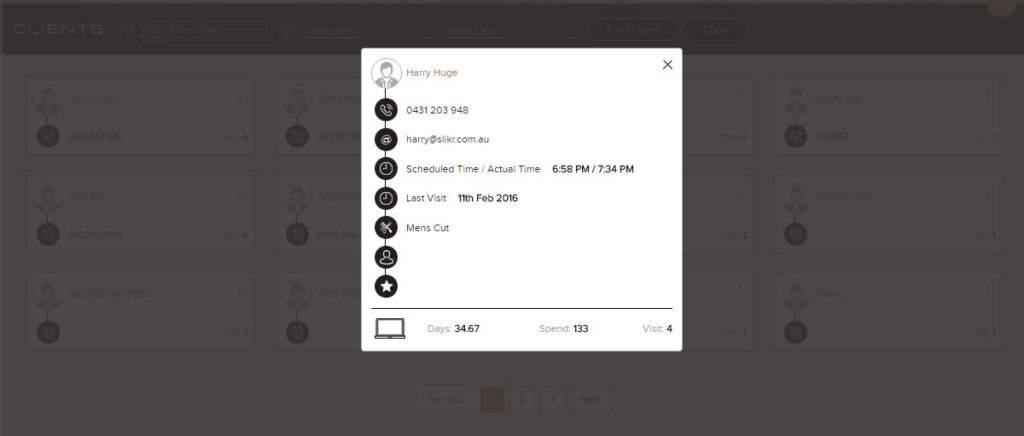 Step 8: Connect your social media
SLIKR provides a link to connect your social media and google site straight to you shop. When clients are inquiring or searching increase conversions by enabling them to check-in immediately and get more clients into your shop.
We provide each shop a web link (URL) to connect directly to your shop.
Facebook Call to Action 
Google Business
The following tutorial shows you how to update your facebook and google page.
Step 9: Using the Kiosk
The Kiosk is the central part of SLIKR. It should be prominent in your store for clients to see the wait time and complete the self check-in.
Wait time: Store wait time.
Queue: Each person waiting and their individual wait time.
See below for the visual and quick access icons.
A key activity for the barber is starting and completing a service from the two icons on the Right of the Screen.
Commence a service: Barber calls the client and selects the "chair icon" + barber name from the drop down list.
Ending: Barber presses the "tick" icon to complete the service.
NOTE: Always complete a service BEFORE calling the next in the queue. "Barber specific" bookings requests will be placed in the right place but barbers finishing early or late can cause changes to the queue. Completing first will ensure the queue is optimised and correct.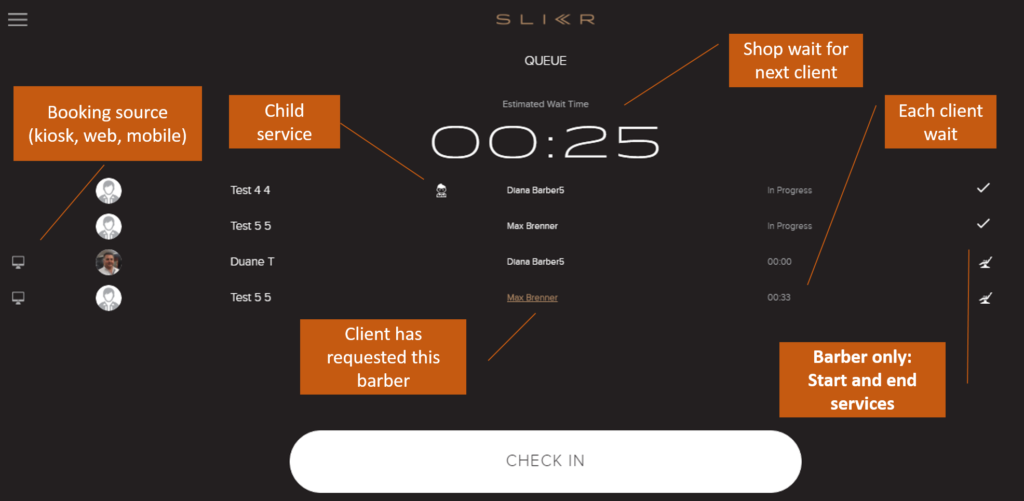 Step 10: Telling your clients - leverage social
The success of any improvement needs to be communicated. You need to tell your clients why and how you are trying to make their experience better.
We have put together some same posts and content you can use to educate your clients. Checkout the following page for some ready made content to get you going. Do not post it all at once, spread it out with 1 – 2 posts per week over a few months.
If you have any great posts or content feel free to tag us!
Getting Help
The first set for help is emailing our support team.
support@slikr.com or http://slikr.com/support/
What we need to know
Description of the problem
Name of the client
Kiosk, Web or iPhone or Android Phone
Any screen shots or times
Severity 1 – MAJOR OUTAGE
Australia National 1-800-601-771
UK and Ireland National +44-3308084601
Our team will activate our DR procedures. Regular communication and updates will be via our facebook page and email
If the outage is likely to last more than 30 mins: Shops may phone support and request an email of you current client booking list.
We will email the Client Name, advised time, and payment status to your shop admin login.
Please have manual procedures in place for manage during this time